Craft beer saved the world, well at least the part of it. According to BeerInfo.com, the number of active breweries fell from 229 in 1960 to 82 in 1980 with just a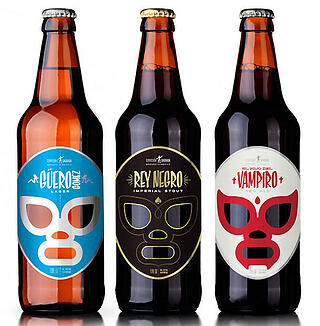 few brands controlling 92% of the beer production in the United States. Through the initial efforts of Fritz Maytag who bought the struggling San Francisco Anchor Steam Brewery in 1965, the craft beer phenomenon began to take root.
Groups of brewers across the country were experimenting with traditional brewing methods that used a higher caliber of ingredients while employing elements of food service technology. This new generation of brewers was able to cater to regional, neighborhood and specialty markets and stay away from focusing on the national scene.
The craft beer industry now constitutes 20% of the national market which makes room for a variety of inspired brews and recipes that wherever your tastes lie, there is a beer for you. The industry has managed to maintain its independence even after becoming a market force, this is reflected by the presentations of the brands that grab the attention of the consumer.
These are 21 of the most creative craft beer names available ranging in taste from light 'n' easy, medium but bold and dark and stormy.
Light 'N' Easy
El

Hefe

Speaks

Hefeweizen

DC

Brau

Brewing Company: Musty clove, orange, aftertaste with

bubblegum

.
A Little

Sumpin'

Sumpin'

American Pale Wheat Ale

Laguintas

Brewing Company: Golden and hazy with a touch of pine and grapefruit bitterness.
Space Station Middle Finger American Pale Ale 3

Floyds

Brewing Co. :Rich copper bold tangerine, mango, and slight caramel. Medium body with a slightly bitter finish.
Loch Down Scotch Ale Arcadia Ales: Full-bodied peat, smoky nose with a deep chestnut smoke.

Lobstah

Kilah

Irish Red Ale Somerville Brewing Co. (

Slumville

): Caramelized malts, floral hops.
Lucky S.O.B. Irish Red Ale Flying Dog: Dark copper color, earthy red ale; hops on the bitter side; malt slightly caramelized; light complexity.



Medium But Bold

Yellow Snow IPA Rogue: Malty with lemon peel, watermelon and pine accents.

Hoptimus

Prime Double IPA Ruckus Brewing Co.: Dried apricot and pine with a balanced hop finish.
Zombie Dust Pale Ale 3

Floyds:

Vibrant, dark honey color with orange, hops, and grapefruit.
Anti Hero IPA Revolution Brewing Company: Reddish and golden bronze hues with a tangy hop finish.
On The Wings Of Armageddon Imperial IPA DC

Brau:

Earthy, with notes of pine and fresh fruit including pineapple and watermelon.
Brew Free Or Die IPA 21st Amendment Brewery: Hazy, golden orange and toasted with an earthy citrus hop character.
400-Pound Monkey English Style IPA Left Hand Brewing: Lively light beer with citrus, malt, caramel.
Gandhi Bot IPA New England Brewery: Intensely floral and citrus-y; extremely balanced,
Bitter American Pale Ale 21st Amendment: Hazy, golden straw with citrus piney hops and a mild honey finish.
Palate Wrecker Imperial IPA Green Flash: Medium golden color with citrus with hints of musk:
Victory At Sea Vanilla Imperial Stout Ballast Point Brewing Company: Silky black and tan with strong coffee, soft vanilla and spice.

Kujo

Chocolate Stout Flying Dog: Pure black in color, a mix of burnt coffee, molasses, prunes and red wine.
Mephistopheles Double Imperial Stout Avery Brewing Company: Cocoa, coffee, and toasted cinnamon with cherries and a touch of nuttiness
Old

Rasputin

Russian Imperial Stout North Coast Brewing: Chocolate, coffee, vanilla with smoky, roasted malts and fresh earthiness.
Wake Up Dead Russian Imperial Stout Left Hand: Plum, raisin, fig, black cherry and chocolate malt.
Do you know of a creative beer name that you don't see here? Let us know in the comments below and we'll add it in!
Cheers & drink responsibly.