Beer cocktails are nothing new, however, they are now making an impressive showing on restaurant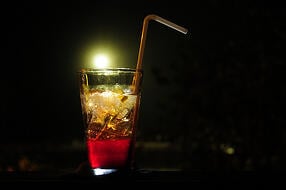 menus and pub menus everywhere. Not sure what a beer cocktail is? It's basically a cocktail comprised mainly of beer - along with some type of alcochol.
There are tons of different types of beer cocktails, some seasonal, some more potent than others, and we're simply here to bring these recipes to the forefront.
One last thing before we dive into the recipes, these are usually more potent, so be responsible wont you?
Black Velvet: Stout beer with champagne (or sparkling white wine)
This recipe is comprised of half beer and half champagne, and due to their differing densities, they'll remain in separate layers if poured correctly. To achieve the layers, pour the beer over a back side of a spoon allowing it to trickle down the sides, versus pouring right down the middle. Often times when champagne is not available, people have used ciders which will result in what is called a "poor mans black velvet."
Beergarita: Margarita with Mexican beer
A beergarita is simple to make. Take a margarita and pour a beer in it. There you go. If you're not sure how to make a margarita - check out the beergarita recipe to get you started.
Pour a glass halfway with a lager beer and then fill it almost to the top with coke - leaving a little space for a shot of amaretto almond liquer - and voila.
First introduced to myself while on a trip to NYC, I must say, this is not for the faint of heart. Easy to make because the shot is simply poured into the beer. If you're a fan of the movie Dumb & Dumber, you may have heard Sea Bass order these for him and his buddies.
This is the Long Island Ice Tea equivalent - but with beer. Not only is it made with spirits and beer, but you'll also find some champagne in this. Add the following liquids together to make a Hangman's Blood: 1 1/4 oz of these drinks - gin, rum, whiskey, brandy, port, then 5 oz of Guiness and 5 oz of champagne of choice.
Comprised of sloe gin, lager, grapefruit juice and ginger beer - this recipe can be made with Lone Star beer to reinforce the name "redneck mother." Add the following a to a mug to make this tasty beer cocktail: 1 oz grapefruit juice, .75 oz sloe gin - then the remaining portion of the class with a lager beer and top with ginger beer.
Pour 1/2 oz of Jameson Irish Whiskey and 1 oz of sweet-n-sour (homemade if you prefer, from half a lemon and half a lime with some simple syrup) over a pilsner glass filled with ice. Add 1/2 oz Sprite soda and top off with a lager beer.
Shake 1 1/2 oz of Lillet Rose, 1/2 oz of walnut liquer and 1/2 oz of triple sec - and then strain into a cocktail glass. Then top with an Anchor Porter.