Fall is a wonderful time of year - the leaves begin to change color, the air turns crisp and ominous with what the winter season will hold. And of course, food and drinks become hearty with spices and seasonal flavors.
Fall, more so than any other season, has become the time for brewers to step out of their normal realms and experiment more than ever.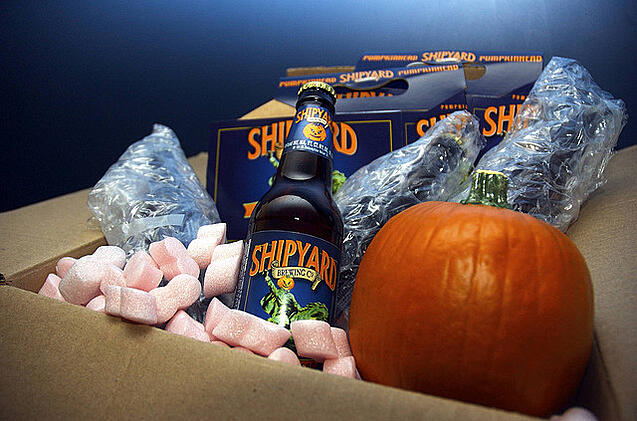 What's all the fuss about. Recently, we as a society decided to "pumpkin all the things" and this is a great time to step outside your comfort zone for non-beer lovers and beer lovers alike to try something new. Heck, each year there are tons of new pumpkin brews popping up from big label brands, along with non-pumpkin but fall inspired recipes.
We searched far and wide for the best beers of fall - and even asked you folks on Twitter what your thoughts were. Find the best fall beers below:
Oak Jacked Imperial Pumpkin Ale
Uinta Brewing Company
10.31 percent ABV (alcohol by volume)
IBU: 39
This seasonal beer was initially produced as part of Uinta's Crooked Line series and is a "jacked-up" version of most other pumpkin ales. It's aged in an oak barrel for six months and includes tons of fresh pumpkin and other fall spices.

On Beer Advocate, this beer rates an 89 out of 100.
Pumpkinhead Ale
Shipyard Brewing Co.
4.7 percent ABV
A crisp pumpkin-flavored wheat ale brewed right out of Portland Maine. It was first brewed back in August of 2002 and is one of the more popular pumpkin beers you'll find. It's sweet with hints of pumpkin flavors mixed with some cinnamon and nutmeg. Looking to pair this with food? Shipyard recommends turkey, BLTs and pumpkin pie. Oh - and we found this fun pumpkin ale muffin recipe you can make with it.
This beer scored a measely 68 on Beer Advocate, but we know that doesn't always matter.
Autumn Maple
The Bruery
10 percent ABV
IBU: 25
This beer hails from Orange County, California and is a twist on a typical pumpkin styled beer. Instead of pumpkin, it has maple syrup, allspice, vanilla, molasses, cinnamon, nutmeg and yams. Plus the strain of yeast it's made from is a traditional Belgian. Interestingly, allspice is considered one of the most important ingredients in Caribbean cuisine.
On Beer Advocate, this beer rates an 85 out of 100.
Pecan Harvest Ale
Abita Brewing Company
5.1 percent ABV
Abita Brewing Company, located in Louisiana boasts this beer as one of their Harvest series brews. The Louisiana-grown pecans are freshly roasted and then added to the brewing process along with Munich and Caramel malts - along with barley grains used for the nutty flavor. The beer style is considered an American brown ale.
On Beer Advocate this beer gets an "okay" with a 76 out of 100. Pft.
Fisherman's Imperial Pumpkin Stout
Cape Ann Brewing Company
11 percent ABV
This deliciously robust pumpkin stout has intensely strong flavors and 11% alcohol by volume. One of my personal favorite pumpkin beers, I'd recommend for any pumpkin lover, especially those whom also like stout beers.
This beer gets an 88 on Beer Advocate.
Imperial Pumpkin Ale
Weyerbacher Brewing Co.
8 percent ABV
Located in Pennsylvania, this pumpkin-ale can be found in a bottle or in a can. And sort of got an honorable mention on an article about top rated pumpkin beers by Boston.com.
This beer gets an 87 on Beer Advocate.
Red & White
Dogfish Head Brewery
10 percent ABV
As reported by the Thrillist, Josh Levitt, Capt'n of What's Tappening, Brown Distributing Specialty Division, Miami, FL has the following to say:
"Red & White is a Belgian wheat beer brewed with Pinot Noir juice, and then 11% aged in Pinot Noir barrels, and 89% aged in giant oak staves. They then blend the beer together to make a truly unique and amazing beer that drinks almost like a wine. At 10% ABV, it truly is incredible."
This beer rates an 87 out of 100.
Then we asked a few folks on twitter, here's what they had to say:
.@GirlsGuide2Beer I'll go with @jacksabby Copper Legend and @notchbrewing BSA Harvest

— Ian Cowpar (@craftbeered) October 22, 2013
@GirlsGuide2Beer Long Trail Pumpkin Ale

— Mark Kilens (@MarkKilens) October 22, 2013
@GirlsGuide2Beer @adriantrimble @cenquist @ThirstBoston @thepublickhouse @craftbeered @Gansettbeer In a Black Lager phase #NoPumpkin

— Lorinda Brandon (@lindybrandon) October 22, 2013
@GirlsGuide2Beer pumpking ale #guysguidetobeer

— Gavin Merlot (@GavinMerlot) October 22, 2013
@GirlsGuide2Beer @NickSalinbound @MarkKilens @LindsayRegina @KyleGeiste @deedeedkc @GoodmanRE @jgarces09 If I go fall its @stbcbeer Pumpking

— Christopher LoDolce (@ChrisLoDolce) October 22, 2013
@GirlsGuide2Beer @NickSalinbound @MarkKilens @ChrisLoDolce @LindsayRegina @KyleGeiste @deedeedkc @jgarces09 LOVE Shipyard Pumpkin!

— Rachel Goodman (@GoodmanRE) October 22, 2013
@GirlsGuide2Beer @NickSalinbound @MarkKilens @ChrisLoDolce @LindsayRegina @deedeedkc @GoodmanRE @jgarces09 Smuttynose Old Brown Dog! Mmm.

— Kyle Geiste (@KyleGeiste) October 22, 2013
@GirlsGuide2Beer @cenquist @ThirstBoston @thepublickhouse @craftbeered @lindybrandon @Gansettbeer there's too many to list!

— Adrian Trimble (@adriantrimble) October 22, 2013
@GirlsGuide2Beer @MarkKilens @ChrisLoDolce @LindsayRegina @KyleGeiste @deedeedkc @GoodmanRE @jgarces09 I love Long Trail Harvest

— Nick Sal (@NickSalinbound) October 22, 2013
@GirlsGuide2Beer Guinness Red Harvest Stout is quite a tasty brew #beer

— Matt Juszczak (@mjuszczak) October 21, 2013
Read more about favorite fall beers by checking out the following articles below: