Are you a beer-lover based out of Boston? If yes, then this weekend's Beer Summit Winter Jubilee event is a must-see.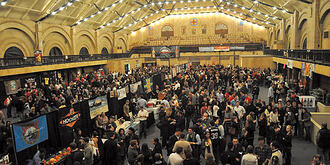 The Winter Jubillee will be hosted January 20th and 21st at the Park Plaza Castle in Boston with over 66 different breweries in attendance. Of course, since it is winter, you'll find tons of delicious winter seasonal beers, many popular beer staples or top-sellers and even some ciders.
If you're looking to expand your beer repertoires - then this is the ideal event for you. You'll find a new winter favorite (we can almost guarantee it) and meet tons of other beer-lovers in the Boston area.
Just a few of the 66 current breweries that will be in attendance are as follows:
Affligem
B Nektar Meadery
Backlash
Baxter Brewring
Brooklyn
Crispin Cider
Eurobrew
Geary's,
Harpoon
Jack's Trail
Magic Hat
Oskar Blues
Otter Creek
Pretty Things
Sam Adams
Woodchuk
and so many more. See the updated full list here.
Ready to buy tickets? Of course you are. Buy them today to ensure your spot. Remember, there are three different sessions - one on Friday night, one Saturday afternoon and one Saturday evening (which just sold out).
If you can't make this one - bummer - but stay tuned as there are four Beer Summits per year.
Connect with the Beer Summit on Facebook to get updates directly to your feed.
Have you been to a Beer Summit before? Let us know your tips and tricks in the comments section below.