Boston Beer & Chocolate Lovers Unite!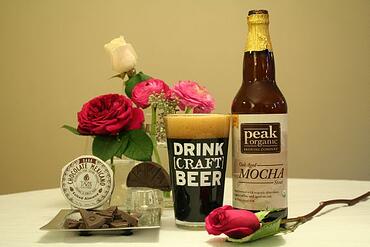 Drink Craft Beer and Taza Chocolate are hosting a beer and chocolate pairing on February 11th at the Taza Chocolate Factory Store in Somerville, MA.
Admission tickets are only $3 and they'll be generously donating the proceeds to The Greater Boston Food Bank.
The timing of this event is fantastic as it is just in time for Valentine's Day and it's extra special since Taza has never hosted an event in their factory before.
Your $3 donation will get you:
- Four samples of craft beer paired with four different Taza Mexicano Chocolates
- Provide 7.5 meals to those who are in need via The Greater Boston Food Bank
- Meet the Co-Founder of Peak Organic Brewing Co - Rob Lucente
- Meet Co-Founders of Somerville Brewing Company - Jewell and Jeff Leiter
- Meet Jeff and Devon from Drink Craft Beer
Check out the registration information from Eventbrite or on Facebook.
And some of the delicious pairings the professionals have put together are the following:
1. Peak Organic's Oake Aged Mocha Stout and Taza Mexicano Salted Almond Chocolate
2. Slumbrew Happy Sol and Ginger Chocolate
3. Sixpoint The Crisp and Taza Mexicano Orange Chocolate
4. Narragansett Porter with Taza Mexicano Coffee Chocolate
So, if you don't have plans this Saturday, February 11th and are in the area, come out to drink some amazing beer paired with amazing chocolates, meet some of the coolest brewery owners in New England and raise money for a great cause.
Find out more information on the DrinkCraftBeer event page.