You don't have to be in another country or speak another language to enjoy a fun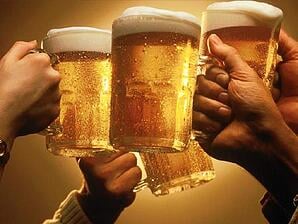 lighthearted toast or "cheers" with others. Toasting is a great way to celebrate and is an expression of goodwill. And, when done in the same language as a new friend or acquaintances, can signify respect. Learning to say "cheers" in another language is easy and below you'll find the most popular 16 different languages.
Disclaimer: Some might not be direct translations like "L'chaim" in Hebrew (meaning "to life,") but that is the proper way to say "cheers."
Chinese
Spelling: 乾杯
Phonetic Pronunciation: Gan-bay (means "dry the glass)
Czech
Spelling: Na zdravi
Phonetic Pronunciation: Naz-drah-vi
Danish
Spelling: Skal
Phonetic Pronunciation: Skoal
Dutch
Spelling: Proost
Phonetic Pronunciation: Prohst
French
Spelling: Santé
Phonetic Pronunciation: Sahn-tay
German
Spelling: Prost
Phonetic Pronunciation: Prohst
Greek
Spelling: ΥΓΕΙΑ
Phonetic Pronunciation: Yamas
Hebrew:
Spelling: L'Chaim
Phonetic Pronounciation: La-hi-em
Irish Gaelic
Spelling: Sláinte
Phonetic Pronunciation: Slawn-cha

Italian
Spelling: Salute or Cin Cin
Phonetic Pronunciation: Saw-lutay
Japanese:
Spelling: 乾杯
Phonetic Pronunciation: Kan-pie (means "dry the glass)
Norwegian
Spelling: Skål
Phonetic Pronunciation: Skawl
Portuguese
Spelling: Saude
Phonetic Pronunciation: Saw-OO-de
Romanian
Spelling: Noroc
Phonetic Pronunciation: No-Rock
Spanish
Spelling: Salud
Phonetic Pronunciation: Sah-lood
Thai
Spelling: Chok dee
Phonetic Pronunciation: Chock dee
Vietnamese
Spelling: Dô
Phonetic Pronunciation: Yo or Jou
Yiddish
Spelling: Sei gesund
Phonetic Pronunciation: Say geh-sund
These are just 16 different languages. Do you know how to say "cheers" or toast in another language? Share it in the comment section below