Looking to brew your own beer but not ready to purchase the equipment, ingredients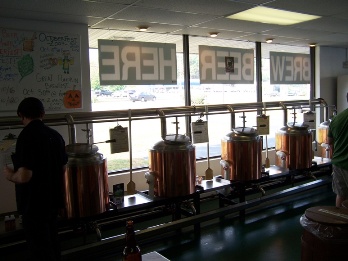 and required reading to get started? Then don't, find a local brew-your-own-beer place and get started brewing with expert help.
We don't recommend always brewing at a location over brewing in-house, but we definitely think there are some benefits to visiting a location and they are as follows.

5 reasons to brew beer on-location:

Recipes: Most brew-your-own-beer locations will have the most popular recipes available as well as some lesser known ones.

Equipment: They have all the equipment necessary so you can try a few test runs before you purchase your own equipment to in-house brew.

Ingredients: Don't worry about purchasing all the ingredients before heading up - most places will include the fresh ingredients to make the beer in the price of brewing.

Knowledge: Brew your own beer locations have one thing that you probably don't have - expansive knowledge. They know when things are going wrong and how to fix them. Having them readily available helps to ease your mind, walk you through the process and remedy any potential bad situations.

No clean-up: This one is huge. Until you brew your own beer in-house, you won't know the amount of cleaning required. Brew your beer on-site and take advantage of the spic and span equipment and save your self time clean-up time.

Bonding experience: If you're going with family, friends or even coworkers - brewing your own beer is an amazing experience that can bring people together. Plus, if everyone does a different beer you can swap out some of your own stash with others to try some of their own beers.

These are just a few of the top reasons to brew beer at a location rather than in-house when getting started.
Have you brewed in your house and on-site before? Which one do you prefer and why?