American pale ale's have been growing in popularity as of the past decade and many are now considered the staple of their craft brewery.
The American Pale Ale (APA) falls into the ale category (no surprise there) and is of British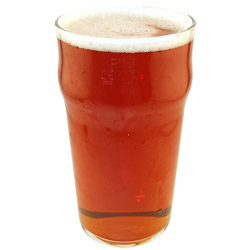 decent. They were said to have first developed around 1980 - and Sierra Nevada Brewing Company was the first brewery to successfully make the beer by including an abnormal amount of American Hops to the beer.
What to expect:
American pale ales generally range from 140-180 calories and their average alcohol by volume (ABV) is between 4-7%.
With American Pale Ales, expect an even balance of malt and hops. They are carbonated and crisp, although not nearly as carbonated or crisp as a lager.

They are essentially an Americanized version of the English Pale Ale, but reflect native variations of the important ingredients like hops, malt, yeast and water. Another difference between the English Pale Ale is that they tend to have a less caramelly malt profile, less body and more finishing hops.

Two years ago, the New York Times ran a taste test with 20 different American pale ale beers and posted a great review of the beers. One of my favorite quotes from this article is major things they noticed with all of the APA's:

"What all these beers had in common, however, was balance and harmony. You could drink them over a long afternoon in the sun, whether at a ballgame, a barbecue or the beach, and still feel refreshed and energetic. The alcohol content is fairly mild, around 5.5 percent, only occasionally going above 6.0. In short, as Kevin and Matthew put it, they were "highly sessionable."

If you're wondering about the term "sessionable" means - essentially is means that you can drink a couple of these beers in a several-hour session without becoming intoxicating because of the lower alcohol content.

Popular American Pale Ales:
Sierra Nevada Pale Ale
Dale's Pale Ale
Anchor Libery Ale
Three Floyds Alpha King
Dogfish Head Shelter Pale Ale
Flying Dog Doggie Style Classic
Do you have a favorite American pale ale (APA) that isn't mentioned here? Feel free to drop it into the comment box below.