If you live in, or around, Boston then this past weekend you may have attended Beer Advocate and Harpoon Brewery's event, the American Craft Beer Festival. There were over 120 American brewers with over 550 different kinds of beer. A true event for any beer lover.
There was quite a showing from attendees - as tickets for both Saturday sessions (B & C) sold out, so if you weren't able to make it - we understand.
However, we don't want you to miss out on all the fun. So we've compiled a list, with the help of others like attendees (friends and random people) of some of the most notable moments of the festival.
The #ACBF superlatives:

Longest consistent line to wait in: Dogfish Head
The line to try Dogfish Head was ridiculously long. Which is odd considering most of the beers could be purchased at any quality package store. Although,there was dissenter in the group who felt that Clown Shoes or Goose Island had the longest lines - for the longest amount of time.

Best spicy beer: NightShift Brewing's Viva Habanera
This beer is not to be messed with. If you don't like spicy then avoid, however, if you do, consume and enjoy, but with caution. It was fun, different and absolutely a new take on beer. One of my friends took a small sip and said "I feel like a fire-breathing dragon" which I felt was the perfect way to describe the feeling. Nicely said my friend. Learn more about their Viva Habanera here.

Best pretzel necklace: Dude A or Dude B?
I'll let you guys vote on this one. I am partial to making your own pretzels and using different flavors and sizes, like Dude A. But, Dude B definitely committed by making a shawl. After having a conversation with Dude B, aka Tom, he stated he wanted to make a vest but it took too much time. Actually Tom, I prefer the shawl.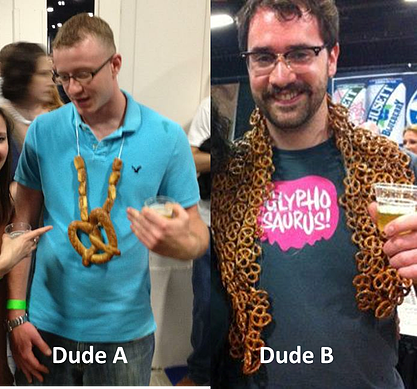 Feel free to leave your preference on pretzel necklaces in the comment section below.
Best brewery t-shirt: Oskar Blues Brewery
Oskar Blues Brewery has a pretty aggresive brewing style that I love. Some of their more famous beers include Dale's Pale Ale, Deviant Dale's IPA, Old Chub and Ten Fidy. I like their brewing style, and their ability to joke around. Check out their shirt. It took me a little bit to get it, how about you?
Most surprisingly incredible and lesser-known brewing company: Cody Brewing Company
I've never heard of Cody Brewing before but this brewery literally blew me out of the water. They had interesting, delicious beers that had tons of personality. If you have the chance, you must try "Honey Gingah Pale Ale", "Carrot Cake Porter", or even "Gee Mans Lemon Honey Hypnotic Tonic" a delicious American strong ale. Did you like them too? Then rate Cody Brewing on Beer Advocate.
Did you attend? What superlatives do you think we're missing?!

Oh and check out Kate Eber'sBeer Festival Recap, too.