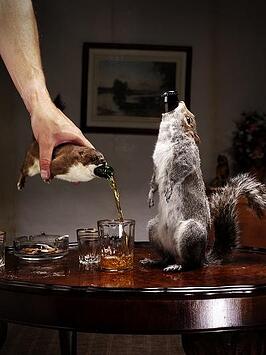 We've gone through some of the most acclaimed beers and based on a few factors, created a list of the ones that everybody must avoid. Some of the factors that attributed to the list were the following:
calorie count
price
alcohol percentage
and just plain taste
Below, please find our list of the worst beers so you may continue to educate yourself and continue to enjoy beer responsibly.
Found on "Best & Worst Beers in America" list from Men's Health - this beer has a calorie count of 330 calories per beer. Let's look at the math - one six pack = 1,980 calories. That is the equivalent to 2 large french fries, 3 Cheeseburgers, and a small iced latte at McDonalds.
This beer finds itself on our list for two reasons. Each bottle is $765 and for that money it is served in actual road kill. Each bottle is encased in a squirrel or weasel stuffed by a taxidermist. We will do the math for you, one bottle of this costs enough that it is equal to buying approximately 1,147 Bud Lights (hey, Bug Lights can be tasty sometimes).
LifeScript, a website that prides itself on taking beer and their waist size seriously, lured 15 critics to blind taste test ten of the most popular light beers. They were judged on many things including consistency, flavor, carbonation, aftertaste and drinkability.
Guess which beer came in last - you guessed it, Corona Light. Their critics gave a resounding "yuck" and this beer scored the lowest marks in almost every category. Only one person said they'd drink it again, and other had a killer quote, "I'd only drink it again before I died of thirst, but I'd have to be really close to death."
57% Finis Coronat Opus is simply on this list because the alcohol content is 57.7 percent and if you could pronounce it the first time you won't be able to ask for another after this beer is finished.
One beer reviewer said the aroma is "lots of alcohol (burnst he nostrils), malt, honey and a faint hint of smoke." He even went on to say it "tastes a lot like Marmite spread, with tons of alcohol..."
Oh, and the estimated calories in this several serving dimbled mug is about 1,731.
While this may be one of the most decadent and delicious imperial stouts you'll ever try - the reason we selected it for this list was two-fold: the calorie count and the alcohol volume. Based on the name Ten Fidy, this beer boasts a 10.5% ABV and 315 calories per beer.
If you're going to have one - keep it at one.
Has been said to be one of the worst smelling beers in the world so unless you have a cold and your smell and taste buds have been overtaken then you should stay away from this beer.
Only two different people have checked in with this on the smart phone app, Untappd, and they're friends.
Over thousands of beer enthusiasts at RateBeer.com rated Olde English the number one worst beer in the world. As stated by RateBeer, this list is just trying to make a few of the big brewers accountable for their products and attract people beyond marketing hype.

This was just our list of beers to avoid. Check out Women's Health Magazine's list of the top caloric beers to avoid:
Have a beer you'd like to add to the list? Feel free to share it in the comment section down below!