As more and more people are diagnosed with a gluten-intolerance, major beer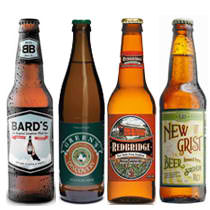 companies are beginning to accommodate their needs - with gluten-free beers. These types of beers are also great for those who are trying to stray from carbs, like those on the paleolithic diet or Atkins diet.
There aren't too many of these style beers on the market, as they're difficult to master for any brewery. But, they are growing in popularity - and below we've compiled tons of information around the web on the most popular gluten-free beers to drink - whatever the reason may be.
5. Dogfish Head's Tweason'Ale
Starting off the list is a beer from one of the most well known craft breweries out there - Dogfish Head. This is a fruit beer and is generally mostly comprised of ingredients like strawberries, sorghum and honey. Although this made the list list - it is said to be very far from tasting like beer. Paste online said "One of the most interesting of the bunch, if not the most recognizably beer-like." However, this is always a great option - as it is more widely distributed throughout the United States.
Want to see what other beer-lovers are saying? Check out reviews on BeerAdvocate.
4. Green's Endeavor
Green's brand only makes gluten free beers - and is based out of the United Kingdom. They are also promoted for being egg, fish, peanut, Soya bean, milk, lactose, nut, and sulphite free.
Want to find purchase some at a local store - check out this helpful page from BeerMenus.
3. Brunehaut Ambree
Number three on the list is from also the number one brewer - as it seems like they've learned how to create the best gluten-free beers on the market thus far. This beer may remind you of a Ommegang Abbey Ale - as it is an Amber Ale out of Belgium - and boasts a 6.5% ABV.
2. New Planet's Off the Grid Pale Ale
New Planet Beer Company recently released a press release with "Find me Gluten Free" stating that because of a fantastic new gluten-free smart phone app, they're featuring New Planet's beer as their only choice for gluten-free beer. While we don't necessarily agree, what we do agree with is how delicious their "Off the Grid Pale Ale" was.
One thing we noticed was that a lot of the beers mentioned for being delicious and gluten-free were always Belgian Tripels - not fair for an IPA lover. The key ingredient in this one is hops.
1. Brunehaut Bio Blonde
This beer is a Belgian Tripel and is mainly comprised of barley (with gluten-extracted). One thing we liked about the reviews is that it tastes 100% like beer - which is something a lot of gluten-free beers don't exactly do. Because of their different brewing process, starting with barley and then extracting the gluten - this seems to be a huge step forward in the world of gluten-free beers.
However, I asked a bunch of people, including beer experts on Twitter - and this is what they had to say about gluten-free beers:
@girlsguide2beer The Alchemist's Celia Saison was excellent; on tap @saltypigboston few months ago. Not a celiac, no perceptible difference

— Michael Loconto (@mtloconto) September 12, 2012
Tried the (new to Nova Scotia) @bsansgluten blonde ale yesterday.Easily the best #glutenfree beer I've tried to date.

— Gregory Power (@Gregory_Power) October 7, 2012
@girlsguide2beer Actually yes! Windmer Brothers makes an "O-Mission" line of beers that are great!

— The Beer Babe (@beerbabe) October 9, 2012
@girlsguide2beer What about brasseurssansgluten.com ? Some of the best gluten-free beers in North America!
— Katy Watts (@klwatts) October 9, 2012
What about you - have you tried a gluten-free beer? What were your thoughts and which ones do you prefer?
Feel free to enter your comments into the section below, or even feel free to add what YOU think are the most popular gluten free beers are.