While many consider pumpking just a seasonal favorite, we here believe it is becoming much more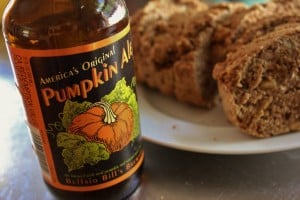 of an evergreen staple in today's society. This is an easy, yet delicious recipe for pumpking beer bread which you can bring to a potluck, a family gathering or even a work function. No matter the function, this festive pumpkin beer bread will do the trick - we promise.
While this is a quick and delicious recipe - keep in mind that there are tons of variations and types of pumpkin beer bread out there because let's face it - there are tons of different bread recipes as well as pumpkin beers. While this recipe provides specific instructions - ultimately what you'd like to include is up to you.
And just like any new recipe you try - we recommend making this once before bringing to a gathering to ensure it is the type of flavoring and the right amount of pumpkin that you're looking for.
Ready to get baking? Follow the recipe below:
6 Ingredients for Pumpkin Beer Bread
3 cups flour (sifted)
3 teaspoons baking powder (omit if the flour you're using is "self-rising")
1 teaspoon salt
1/4 cup of granulated sugar
1 12 ounce can of pumpkin beer (wheat, ale, stout, porter - whatever you want!)
2-4 tablespoons (whichever you prefer) of melted butter

A couple of items to note about the ingredients above before diving in to the directions -
sifting the flour is an absolute must
. Many people think it is a waste of time, but if the flour is clumpy - it will not make the delicious bread that we're aiming for here. Additionally, you can enhance the pumpkin flavor by including pumpkin puree, or other fall spices like nutmeg and cinnamon. This is my favorite enhanced pumpkin flavored recipe - from the
Sacramento Bee
.
Now - on to the directions on how to make this delicious bread:

Preheat oven to 375 degrees
Mix all of the dry ingredients - and the beer.
Pour into the greased loaf pan
Melt butter and pour it over the mixture (this will make it crispy on top - if you prefer a softer crust simply mix the butter into the batter instead)
Bake for one full hour
Remove from the pan - and let cool for about 15 minutes.
Enjoy the hearty, thick and tasty bread
This is best served warm out of the oven with a little bit of butter, cream cheese or even some other type of butter - like almond to add to the moistness.

Keep in mind that you can use whatever type of pumpkin beer you want - the following are a few ideas:
The Brewer and the Baker suggests using Dogfish Head's Punkin Ale.
Pumpking - Souther Tier Brewing Company
Imperial Pumpkin Ale - Weyerbacher Brewing Co.
Pumpkinhead Ale - Shipyard Brewing Co.
And a coworker suggests using Harpoon's UFO Pumpkin.
This is just one pumpkin bread recipe - and there are tons out there. Here are some popular other pumpkin beer bread recipes that we love:
If you decide to make this bread - or have made it before - please feel free to drop your thoughts or suggestions into the comment box below.
Image courtesey of thesmartkitchenblog.com.