This is a guest post by Blake Daniels. Blake is a stay at home dad with a passion for the simple things in life. On any given day, you'd most likely find him spending quality time with his family, brewing and enjoying beer or mowing the lawn.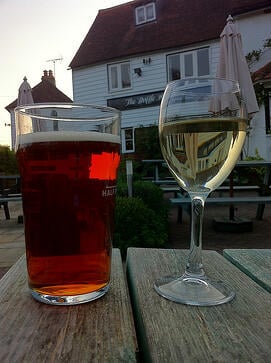 It's a long-time feud, a constant back and forth. Beer or wine. Which to choose? Well, now you can have the best of both worlds by hosting your very own Beer vs. Wine party. Why choose one when you can enjoy both? With these party ideas, say goodbye to friendly arguments and hello to a world of beer and wine harmony.
Select two prominent countries to stack up the beer vs wine:


Try setting up your dinner to feature two prominent countries: one for beer, and one for wine. Why not start with Germany and Italy?
These two countries are known for their respective beverages, and moreover, for their unforgettable eats. Design your menu so that each course or item alternates between the two countries, and thus alternates between the two types of drink. Your guests can choose whether they'd like a traditional German bratwurst paired with a stein of Oktoberfest, or whether they'd prefer some sinful spaghetti with a glass of Pinot Grigio.
Just be sure to have the appropriate glassware handy before each before sending out your invitations. For your more adventurous guests, let them try a little bit of everything and go back and forth between the two. At the end of the night, you can have your guests vote on which drink was their favorite.
Host a beer vs wine potluck:


Take the country vs. country dinner one step further and host an "Around the World" potluck - this way everybody can participate.
Each guest will receive a country that traditionally known for either beer or wine. Encourage your guests to bring a dish from their respective country (that you've selected previously), as well as the drink their country was assigned. Challenge your guests to find beer or wine that is actually produced in their given country and see what they're able to come up with.
Here are five countries that are undoubtedly beer nations, and would offer some delicious plates:
Ireland
Denmark
Belgium
England
Czech Republic (which, according to CNBC, is actually the number one beer consuming country in the world).
To go along with this, you'll also need your wine locales. Go beyond standard wine-producers like France and Italy, and look for some countries that are a bit outside the norm. These "New World" winemakers - including Argentina, South Africa and not surprisingly, the United States.

Try wine tasting on Football Sunday:


Football Sunday might as well be an American holiday, and when it comes to watching the game with friends, beer is undoubtedly essential. Get a variety of brews for your guest to enjoy while they watch their team go for the end zone, and consider cooking simple treats to go along with it.
But when halftime rolls around, use this as an opportunity to switch gears, do something a little different, and offer your guests a mini-wine tasting, complete with plenty of cheese, crackers, and other goodies. Call this new twist on Game Day "Halftime Wine," and make it a staple at all your pigskin-watching parties. Each week, pick a different person to bring the wine, and by the end of the season, the group will have tried a wide variety of wines, without ever having to abandon their beloved game time beer.
Keep the Ideas Coming
Separate the group in to two teams and do some beer and wine trivia. You may be surprised at what your friends might know.
And for those of you who, aren't too far removed from "college-mode", take traditional games like beer pong and flip-cup, and add another level of competition by having separate teams for beer and wine.
Finally, look into your collection of flicks to see if you have any movies that might fit with your beer vs. wine theme. For the indie-lover, check out Sideways for a wine-flick fix, and for a lighter feel, Beerfest is the perfect way to end the night.
If you're not satisfied with these party ideas, take a few minutes to brainstorm quick and easy ways to add some beer and wine fun to any dinner party. You'll be surprised how easily you can come up with something that is sure to be a hit at your next get-together.
And of course - always be responsible when drinking
Oh and for handy reading - bring along this infographic on the debate on which is better - beer or wine.