The September Boston Calling is less than two weeks away, and it's been said to be the best one yet.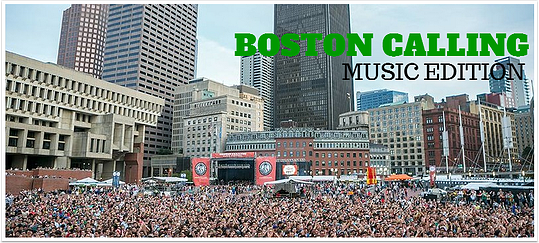 The line-up is stacked.
Below find the artists for each night and a song or two to familiarize yourself with so you know what to expect for each band.
Friday
Future Islands

Future Islands propelled into fame for their memorable TV debut on David Letterman of "Seasons" that had Letterman giving a rave review of "I'll take all of that you got."

Watch their Letterman performance here:

hal

Neutral Milk Hotel:

Formed in the 1980's in the south - this band has inspired some of the coolest folks out there today like Franz Ferdinand, Bon Iver and Arcade Fire.

The National:

Said to have a sound similar to Leonard Cohen, Depeche Mode and U2, The National were founded in the hometown of Cincinatti, Ohio.
Saturday
St. Nothing
An electropop trio based out of Boston. Sonic Bids said their shows have been described as honest, intense and ethereal.
Clifflight
Based out of Boston, this band has just started their trajectory into greatness. . They have collaborated with Capital Cities and even their remix of Lazy Lies made it on to the Capital Cities record.
They're also playing a show Saturday night with Gentlemen Hall Saturday night at The Great Scott. Get tickets here.
S. Carey
Sean Carey is best known for the dummer of Bon Iver. This Lake Geneva, Wisconsin native released his own solo album back in 2010 titled "All We Grow."
Sky Ferreira
Sky Ferreira was born in Los Angeles in 1992 and has been involved with music at the age of nine. She began playing Elton John songs on the piano, worked with Britney Spears' producers and became friends with MJ (yes, Michael Jackson) - all before the age of 15.
Bleachers
A fun side project of the guitarist Jack from the band Fun. The CD Strange Desire was recently released on July 15th, 2014.
The Hold Steady
Formed in 2004 in the former hipster capital of the world - Brooklyn. Their songs have themes of religion, redemption, drug addiction.
Volcano Choir
Another awesome indie rock band from Wisconsin. Formed in 2005 - the band began as a collabo between Bon Iver's Justin Vernon. Last year, Justin said that the name was derived from the Vaporizer device called a "Volcano."
Girl Talk
American DJ specializing in mashups. Gregg Gillis, stage name for the DJ, started his journey of electronic music while in high school in Pittsburg, Pennsylvania. He even studied technical things, as he was a biomedical engineering major at Case Western Reserve University in Ohio.
Childish Gambino
Also known as Donald Glover - Childish Gambino is an actor on NBC's Community, comedic writer, comedian and rapper.
Lorde
You already know this young New Zealand singer/songwriter that basically dominates every major radio station.
Sunday
Gentlemen Hall
One of the most fun live bands, Gentlemen Hall, is also a Boston-based band now living in Brooklyn. They were featured on the cover of Phoenix magazine, won the Billboard Music Awards battle of the bands and were recently featured on Perez Hilton blog for their super dope cover of Kendrick Lamar's Bitch Don't Kill My Vibe.
They're also doing an after-party performance Saturday night with Clifflight: http://www.ticketmaster.com/event/01004D0EB2484038
San Fermin
Composer and songwriter, Ellis Ludwig-Leone, formed San Fermin in Brooklyn after he graduated from Yale.
White Denim
This four-piece band formed in Austin, Texas has been creating music since back in 2005. What Wikipedia has to say bout them is pretty awesome:
"Their music draws influence from dub, psychedelic rock, blues, punk rock, progressive rock, soul, jazz,experimental rock with home-based recording, jamming approach, intense looping work and unusual song structures."
The War on Drugs
American indie rock band, The War On Drugs, has released four CDs in their time as a band that started in 2005.
Think the singer sounds familiar? Some blogs have said he sounds like Bob Dylan. What do you think?
Lake Street Dive
Another awesome Boston-based band, Lake Street Dive was found back in 2004. They're an awesome jazz and soul band that features a trumpet and an upright bass. One thing is true, they're memorable.
Watch their cover of Jackson Five's "I Want You Back"
Twenty One Pilots
This duo recently visited Boston and did a free show for Radio 92.9. But free shows are no more for them. They're from Ohio and named their band after a scene from an Arthur Miller (ex-hubsand of Marilyn Monroe) film.
The 1975
UK based band has four members. They have four EPs and one full length album, which actually debuted at number one in the UK.
If you listen to Alt Nation on Sirius, then you've definitely heard the song below.
Spoon
Spoon released their 100th (not really, but they have a ton of CDs) this year titled "They Want My Soul"
Here's my favorite jam of all time though:
The Replacements
Considered by many to be the pioneers of alternative rock, the band formed back in 1979. They say their music is largely influenced by the Stones, Lou Reed, The Beatles, and The Clash.
NAS & The Roots
Currently signed to Def Jam, Nas has every right to close out the final night of Boston Calling. He has mega hits like "Hate Me Now" "One Mic" "The World is Yours" "Thugz Mansion" and "If I Ruled the World" and not to mention he has released 8 consecutive platinum and multi-platinum albums. Plus, he is a business man as he owns his own record label, sneaker store and a few other endeavors.
Listen to his top 35 songs of all time:
And of course - you can listen to all their songs from the Boston Calling playlist: