---
Fall is absolutely upon us, and we know what that means - pumpkin flavored beers!
Below find some of the best pumpkin beers to try before they're all gone.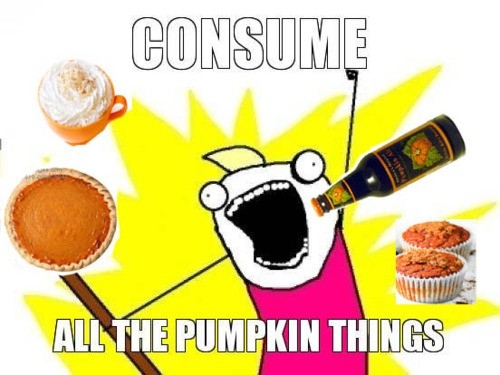 ---
1. Shipyard Pumpkinhead Ale.
One of the most popular pumpkin flavored beers, Shipyard's Pumpkinhead Ale is a common favorite of men and women alike. S
Alternatives to enjoying it solo:
Shipyard recommends adding a shot of spiced rum.
It's also often enjoyed with a sugar and cinnamon rim.
Bostonians, or more specifically people from Southie, will often add a shot of vanilla to it to enhance the flavor, and it's potency.
Interestingly, it only received a 69 (out of 100) on the Beer Advocate website, but what do those beer snobs know anyhow. ;)
2. Southern Tier's Pumpking
A delicious beer to pair with your Thanksgiving dinner, pumpkin pie and other desserts. However, before you consume too many, keep in mind that this tasty brew has a higher alcohol percentage than most, coming at 8.6% ABV. The reason it's so high is because it's an imperial pumpkin ale. Imperial beers traditionally have higher alcohol percentages.
And the good news for beer connoisseur? It's okay to drink and still be cool because Beer Advocate folks ranked it at a 91. Oh and if you like the beer, it's helpful to know that they release it in mid-july - that's one awesome way to start celebrating fall early.
3. Shocktop Pumpkin Wheat
If you're traditionally a fan of Shocktop or wheat beers, then this one is for you. This is a traditional Belgian-styled wheat ale, brewed with actual pumpkins and many autumn spices including cinnamon, cloves and nutmeg. It's an unfiltered wheat beer, with amber color - and true to wheat beer styles - is pretty crisp tasting.
4. Horny Goat Horny Copia Pumpkin
Brewed in Milwaukee, this beer was rated to have "high" pumpkin flavor and also "high" spiciness from Paste Magazine. While they're not a fan because, to them, it's "everything that's wrong with pumpkin ales" - we know that some people love the pumpkin on full throttle. This can be hard to find though, so if you're missing out, move on to the next beer.
5. Uinta Punk'N
A favorite growing in popularity each year. This beer is said to have lots of pumpkin flavor, but going mild on the spices. It is, also, a good sessionable beer because it comes in at a low 4% ABV.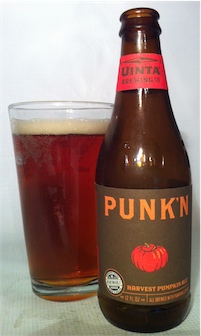 6. Magic Hat Wilhem Scream Pumpkin Ale
If you know me, then you know that Magic Hat and Dogfish Head are my two favorite breweries. Their company principles are what guide them toward creating the most remarkable beer I've ever tasted. Plus, they're business savvy and have commented on how quality is always the most important - regardless of how popular they become or how much money they can make - quality comes first. Here, here!
This beer has a medium pumpkin flavor and pretty low spices. For those looking for a hint of fall and pumpkin - this beer is for you. It's easy to drink more than one, so you're safe with a six pack, and it's also a reasonable ABV (5.4%).
7. Flying Dog The Fear Imperial Pumpkin Ale
What an incredible name. Any beer that has "The Fear" in it - I'm a fan. It's another imperial, and based on what we read above, we know what that means.
This beer has been quite polarizing by folks who drink it. I personally love it. However, The Paste Magazine thinks it tastes like dirty socks. What do they know any how? Because of this interesting review, I headed over to see what the folks at Beer Advocate think - and they agree, it's pretty good.
One thing to keep in mind is that with imperials, they're notorious for being evidently strong. Maybe that throws you off. Maybe you enjoy it. Regardless of which camp you fall into, this beer has local pumpkin flavoring which we think is pretty evident (being high pumpkin flavored) and cool.
8. Shipyard Smashed Pumpkin
Didn't we cover this one already? Not quite.
Shipyard has a few pumpkin beers. The one mentioned at the #1 slot is by far their most popular, but is it the best? We don't think so. This beer is delicious, especially because we do love pumpkins, almost more than we love quality beer. It is quite "boozy" coming in at 9% ABV, has great packaging that makes it feel special, and it's very, very high in pumpkin flavor.
8. Kentucky Pumpkin Barrel Ale
Already a popular brewery, this gang recently released their bourbon aged pumpkin ale. The pumpkin flavor and spices are low, but just enough of them to make it a pumpkin beer worth indulging in. This is a great beer for those who want a hint of pumpkin while trying out the barrel-aged beers.
9. 21st Amendment's He Said Baltic-Styled Porter
A delicious porter, this beer has a rich creamy (and chewy) taste associated with porter beers, along with a hint of pumpkin. This also has a high alcohol percentage (apparently most fall beers do), and has been said online by beer lovers as the perfect pumpkin beer for people who don't like pumpkin beer.
10. Weyerbacher Imperial Pumpkin Ale
Another delicious imperial, but this time with a reasonable ABV of 8%. For those who love pumpkin flavored beer, or pumpkin flavored bread, this beer is spot on. It's an obvious pumpkin beer with obvious fall flavors. The silly folks at Paste Magazine said this beer won a previous year's pumpkin beer tasting. Well done, Weyerbacher. I would agree that for those who love fall, pumpkins and beer - this is a perfect staple of your refrigerator for as long as you can get your hands on them.
---
Didn't get your fill and want to read more about pumpkin beer? Here are some of our favorite articles from around the web: