Ah yes, the holidays…those few short months in which over indulgence becomes less of a shameful act and more of a personal challenge.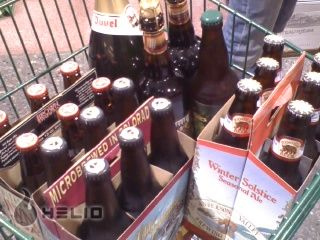 Diets and calorie counting are for the New Year after all. But while the rest of the world indulges in baked goods and gravy boats, we beer drinkers know that calories are best consumed in a pint glass. By now, the Oktoberfests and pumpkin-everythings of the world have started to disappear, giving way to some delicious winter brews. Here's a look at some of the best.
BeerAdvocate's

Top Rated
Number one might just be

Hardywood's

Gingerbread Stout. Not only does it claim a whopping 9.2%

ABV

, BA raves that it's

"freagin'

Christmas in a bottle" and gives it a perfect 100 score. For others with a "Very Good" rating or higher, try:
Anderson Valley Winter Solstice 6.9%

ABV

Widmer

Brothers

Brrr

7.2%

ABV

Sam Adams Old

Fezziwig

Ale 5.9%

ABV

Great Lakes Christmas Ale 7.5%

ABV
Winter Warmers
Rahr

& Sons' version out of Fort Worth, Texas, brings you 8%

ABV

and a whole slew of online reviews to vouch for its yum factor. Enjoy one in a snifter to bring out its full flavor and aroma.
The Full Sail Wassail from Oregon is one full bodied beauty with a

hoppy

finish. Hardly a rookie to the craft beer scene, this winter ale has been in production since 1988. One drink and you'll know why.
San Francisco's Anchor Brewing Christmas Ale boasts a different recipe every year while still maintaining that winter warmer style. Trust in your fellow beer connoisseurs and the ratings of years prior and have a pint.
And while you're on the West Coast, enjoy a Full Suit by Karl Strauss. This brown ale is sure to keep the surfers warm with its roasted nut and vanilla essence. 6.3%

ABV

.
Limited Releases
What's not to love about Lagunitas Brown Shugga? Rich, drinkable, and 9.99% ABV, the brewery itself admits, "feeding brown cane sugar to otherwise cultured brewery yeast is akin to feeding raw shark to your gerbil." We say bring on that shark meat. Available until January 2015.

Who says winter beer has to be labeled as such? If your patience surpasses your curiosity, try Enjoy After 12.26.15. It's Stone. It's an IPA. Need we say more?
Budget Brews
Sierra Nevada's Celebration is exactly that. Beer snobs might like to snub their noses at the popular supermarket craft beers, but there's nothing wrong with a classic IPA with

wintery

notes of citrus and pine. Bottoms up!
If you're on the East Coast, you might luck out and come across a six pack of Southern Tier's

2xMAS

. This double spiced ale comprised of orange peels, cinnamon, and ginger pairs well with holiday sweets. And at roughly two bucks a bottle, the price is even sweeter.
Sam Adams certainly knows its seasonal brews and their Winter Lager is no exception. At 5.60%

ABV

, this dark wheat bock is smooth and won't weigh you down. Commitment issues? We've got your back. Buy a Sam Adams seasonal variety pack and sample a few others while you're at it.
Shockingly Seasonal
California brings us Mavericks Belgian Style Wit and with a fairly low

ABV

of 3.75%, it's both drinkable and refreshing. While citrus notes may remind you of summer, this seasonal ale is made for cooler weather.

Lagunitas

Sucks. Well, not really, but after the great "Brown

Shugga

Substitute" fail of 2011, they named this double IPA accordingly and released it anyway. Now that it's available year round, you won't even have to wait until Christmas.
Do you have any you'd add to this list? Let us know in the comments below.