With the ever-increasing range of beer styles available today - it has never been easier to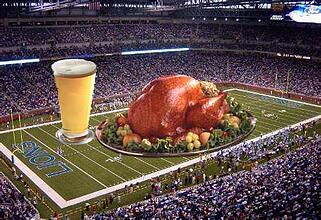 pair your favorite meals with a perfect beer. While most people traditionally think of wine when they consider meal pairings - beer should absolutely not be ruled out any longer.
And with all of the seasonal beer recipes like beer-can turkey, herb and beer braised rabbit and pumpkin beer bread- we'd be silly to to not take a moment to think about which beer can best bring out the flavors of our beloved Thanksgiving dinner.
Here are a few reasons beerconnonoisseur suggests pairing beer with food over wine that we absolutely agree with:
beer is not overly sweet
the light carbonation can serve as a palate cleanser
it's bitterness balances other flavors well
better pairing with spicy/hot foods
and it has moderate alcohol content for the volume
And as Epicurious perfectly points out - winemakers only have one ingredient to play with - grapes. Whereas beermakers can experiment with barley to add sweetness, hopes to provide bitterness and yeast to lend the "bread-like" characteristic.
So - here are some steps to finding the perfect beer to pair with your Thanksgiving dinner:
Select the type of pairing approach you want to take.
As with any food pairing - there are generally two basic approaches:
Complementary pairings: This is where the flavors of the food and the beer match. They form one unified flavor profile. This takes form in "smokey and smokey", "chocolate and chocolate" or even "fruit and fruit" pairings.
Contrast pairings: In this case, the flavors have opposite flavor profiles and help both enhance the different tastes.
Next, select your favorite meal on Thanksgiving and how you can complement or contrast their flavors.
If you're used to pairing foods with wine - you may want to consider that the two styles of beer lager and ale have been said to represent the two popular types of wine - lager is like a white wine and ale is like a red wine. So if you traditionally love red wine with your meal - then shoot for an ale. Or if you prefer whites, select a lager - and this can range from Stella to Sam Adams Boston Lager to a Pilsner Urquell.
And for the perfect pairing - may we suggest pairing it with the type of stuffing. Generally all turkeys, bread, mashed potato, carrot and everything else tends to all be the same - however, the stuffing is where it can get interesting.
If you're making an onion stuffing with sage, a fellow coworker of mine and former chef - Matt (@chefmattrock) suggests - to consider pairing it with a pale ale that contains herbal notes - like a Lagunitas Downtown Pale Ale. Additionally if you want a complementary beer for this type of stuffing - consider Saison Du Buff which is a collaboration with Stone Brewing, Dogfish Head and Victory Brewing.

If your stuffing is more on the "meaty" side with sausage, bacon or any other type of delicious, but more greasy meat - consider a crisp, palate cleansing pilsner. Or even a highly carbonated IPA.

A sweet stuffing that may contain apples, raisins and sweet onions deserves a something to cut through the sweetness like a more hoppy (bitter) IPA or an English bitter ale.

A more hearty, dark-bread stuffing with chestnuts would work wonderfully with a more hearty beer - like winter ales. Check out BrewPublic's list of 15 top winter beers for some ideas.

And lastly, Matt mentioned going presidential with an apple and oyster stuffing (which I've never heard of, but he's the chef) and the Whitehouse's own honey porter recipe. See the Whitehouse (yes, that Whitehouse) recipe here.
Select a beer to pair with dessert.
No matter if you're eating a chocolate cake, apple pie or a dessert with berries, Chef Matt suggests an Oskar Blues Ten Fidy. While this is one of my favorite beers of all time - keep in mind that it is 315 calories per 12 ounce can, and it is named Ten Fidy because it is 10.5% ABV.
And of course - if all else fails, just drink what you like.
Oh and Beeriety asks, if you find a delicious pairing, share it with the rest of the beer-lovers community on Twitter with the hashtag - #mybeer.
Image via LAWeekly.